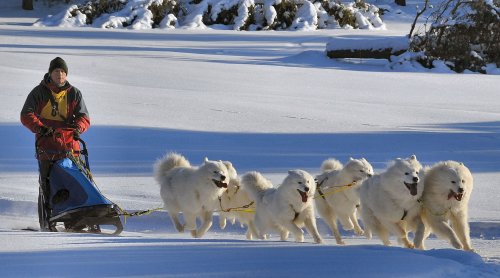 OREDRAGET
Nordic championship for samoyeds 2020
Location: Ore fritidsby in Furudal, Sweden.
DP10

will be organized Saturday 8/2, Sunday 9/2
1-dog pulka or 1-dog sledge with weight according to the rules;  §3.8


DP20 will be organized Saturday and Sunday 8-9/2
1-4 dogs pulka or sledge in 2 classes (6 dogs och 4 dogs) with weight according to the rules;  §3.8



DP60

will be organized Tuesday and Wednesday 11-12/2, first start at 16 o'clock
1-4 dogs pulka or sledge max 6 dogs with weight according to the rules;  §3.8

Entry fees in SEK*
DP10 – 330 SEK
DP20 – 630 SEK
DP60 – 730 SEK
Send your entry via mail to: Linda Almquist, snotrollens@gmail.com
For foreign dogs please send a copy of the registration certificate/pedigree to snotrollens@gmail.com.
Muscher resident outside Sweden: Membership in a recognised foreign breedclub (similiar as SPHK) in the country where the dog owner is resident.

The muschers age shall be at least 16 years old on the races first day, and hold a license or equivalent insurance.
Bank transfer:
BIC: NDEASESS
IBAN: SE15 9500 0099 6026 0238 3545
Reciever: SPHK:s rasklubb för samojed
Last entry day: 2020-01-18


Use the form "Anmälningsblankett" and leave in the secretariat in 2 copies before the races. The form must be written on the computer.


Rules: